Private Investigations:
Background Checks: If you are an employer, property management company, or need to find out information on persons close to you, you could benefit from this service. Background checks can be performed on a person either with or without their knowledge/consent allowing you to avoid any unwanted confrontations. 
For Verified Employment Locates - No Hit, No Charge
Process Service: If you are an attorney, a law firm, or an individual pursuing a court action, Priority Investigations can provide timely legal paper service to individuals or entities included or needed in your case.

Asset Location & Identification: Priority Investigations can assist you in locating and identifying vehicles, financial accounts and valuable property. This could be useful in property disputes, estate/probate resolution, and divorce proceedings. 
For Verified Bank Locates - No Hits, No Charge
People Locates: We can assist you in locating individuals who are potential witnesses, clients, or defendants in your ongoing legal proceedings.
Surveillance: An extremely important part of any investigation is the gathering of evidence. Whether it is insurance claims, workers compensation claims, or even sensitive family law matters requiring investigation of infidelity and/or potential child custody issues, Priority Investigations can collect pertinent video and audio documentation to help build a solid investigation. 
Statements/Interviews/Photographs: These are all essential pieces of information that a skilled investigator can obtain for you which when used properly can assist in your trial preparation.
***No matter what the investigation is about, all issues are handled with the discretion and the professionalism you expect and deserve***

Protective Services:

Priority Investigations can assist with your business, home, and personal safety concerns.  Through research, surveillance, and on site visits, we can develop a security and protection plan to fit your needs.
Though our company's primary focus is Minnesota we understand that an investigation may spill into other states.  We have licensed associates that can assist in these circumstances.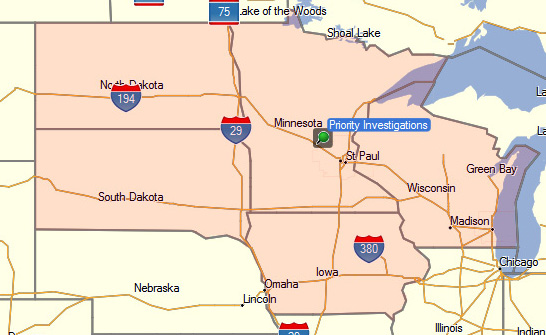 **For further information, rates, or to request other services please call 320.249.0995.